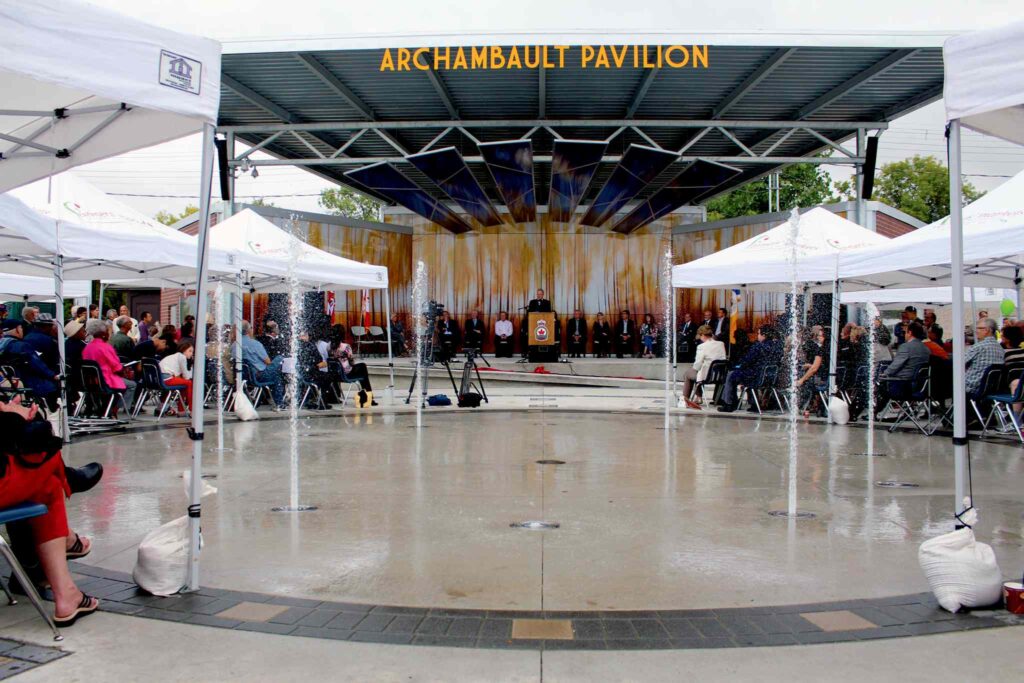 The Transcona Centennial Square officially opened on September 9, 2013 and is a new City of Winnipeg park located in the heart of old downtown Transcona, near the corner of Regent Avenue West and Bond Street at 135 Regent Ave West.
Construction of the square was truly a community initiative. Funding was provided by the City of Winnipeg, the Province of Manitoba, the Government of Canada, and generous sponsorships from local Transcona businesses.
Significant sponsors included Geoff and Regan Archambault of Century 21 Realty, Wyatt Dowling/Wawanessa Insurance and New Flyer Industries. The Archambaults' contribution went towards the cost of a performance pavilion while Wyatt Dowling's was used for a community wall of fame. New Flyer's funding was used for the Peace Water Fountain.
Individual support for the square included over $100,000 though the Buy-a-Brick Campaign that allowed community members to leave special messages and recognize loved ones in the square for years to come. On June 21, 2011 an official sod turning ceremony took place.
The grand opening celebration was hosted by Peter Martin, who served as the president of the Transcona Historical Museum board of directors at the time. Other dignitaries in attendance included Winnipeg mayor Sam Katz, Transcona City Councillor Russ Wyatt and Transcona Business Improvement Zone Executive Director Wendy Galagan.
The park sits on a special piece of land for Transcona residents as it is the former location of Joe Blostein & Son. Many will remember Blostein's as one of Transcona's largest and busiest department stores, a mainstay of the community and an integral part of Transcona's heritage.
The Transcona Centennial Square features the Archambault Pavilion, a public art piece created by David Firman, the stunning New Flyer Peace Fountain, the Wyatt Dowling/Wawanessa Insurance Walls for Fame, and the CN Centennial Clock Tower. 
On Friday, April 12, 2013, a Time Capsule was placed in the square as part of Transcona's 100th Anniversary Celebration. Created to provide a "snapshot" of the Centennial Year the capsule is set to be opened in 2062.
The Transcona Centennial Square is used annually for many public events, including the Transcona BIZ's community markets, movie and concert nights, and the winter skating rink, just to name a few.
The Transcona Centennial Square is considered a City of Winnipeg Park and Open Space. For groups interested in renting the square, including the stage and fountain area, please contact the City of Winnipeg 311.