"Business improvement zones play an important role in building our city as well as enhancing pride in our city…It's great to have an opportunity every year to show our appreciation for all the great work our BIZs do making our communities and city a better place to live, work, and do business."

Mayor Brian Bowman, May 9 2019 Mayor BIZ Awards Ceremony
Transcona BIZ is one of 16 Business Improvement Zones in Winnipeg, that together represent over 5,000 businesses throughout the city. Each year individuals, organizations, and businesses that have made a significant contribution to their local BIZ are recognized through the Mayor's Business Improvement Zone Awards.
Awards are presented for exemplary work that contributes to the Business Improvement Zone programs in a variety of ways. Past awards have acknowledged significant contributions in the areas of community program delivery, special events, marketing, promotions, safety initiatives, zone beautification, and streetscape enhancements.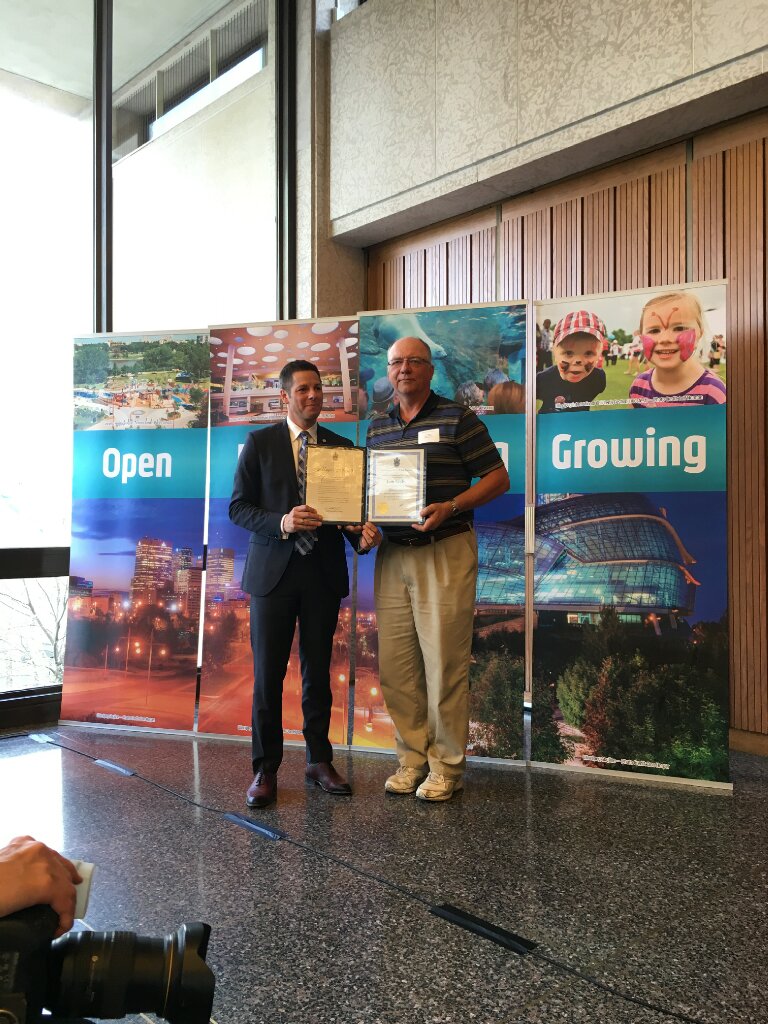 Award Recipients
2022 N/A No event held
2021 N/A No event held
2020 N/A No event held
2019 Bjorn Johnson - Art Teacher, Murdoch Mackay Collegiate Institute
The Transcona BIZ Festival of Banners program showcases local student artwork throughout the neighbourhood every year on street banners. This program would not be possible without the dedication of Bjorn Johnson, an art teacher from Murdoch Mackay Collegiate. For over six years, he has assisted students from across the River East Transcona School Division in creating banners that help to beautify the BIZ Zone.
To enable creation of the banners, Bjorn supervises an annual three-day banner painting workshop. During this time, BIZ staff and parents join him in assisting students with painting their unique creations.
In 2017, the banner program was recognized by the Canada Summer Games. This recognition would not have been possible without Bjorn's enthusiasm and leadership. He also contributes to the Transcona BIZ by consulting on art projects and creating sketches for the BIZ photo booth for Canada Day celebrations.
2018 Glenn Campbell – Transcona BIZ Community Volunteer
Glenn Campbell started his career at New Flyer Industries in 1979 and has been a Transcona resident since 1988. Whether snow blowing the city sidewalks or tuning up people's bikes in the neighbourhood, Glen embraced the small community mentality. He petitioned with other neighbours to keep the Kildonan Meadow Park entrance open and accessible to the community. He also volunteered his assistance to set up the Ecole Regent Park track and field.
Glenn has offered support to the Transcona BIZ in many ways. Whenever BIZ staff or Green Team students required building or maintenance assistance, without hesitation Glenn was there for them. Glenn has aided in teaching and assisting the green team how to repair and maintain the watering tanks, the wagons and other equipment.
Glenn has volunteered at Transcona BIZ summer events such as movies in the Square, community markets, and concert series. His hands-on approach to problem solving, and willingness to help clean, set up and take down tents, tables, and chairs has made him an indispensable member of the community.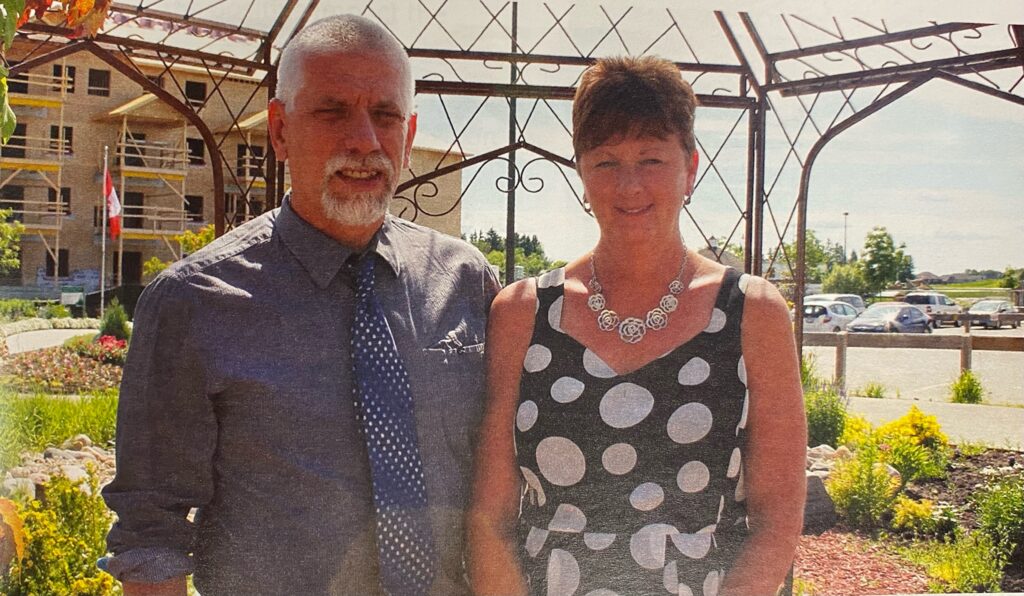 2017 Wendy Galagan – Former Transcona BIZ Executive Director
Wendy was instrumental in the development of various community programs with local schools, senior's groups, and volunteers. Most notable was her initiative of the Market Garden and its enhancements. Her commitment to everyone being included in the community made Transcona a better place to live and allowed her to shine. Wendy was always friendly with any member of the community who walked into the Biz office and always had time to chat about the community plans, programming or any other questions/concerns they might have.
Wendy was a driving force behind the Transcona Square development including fundraising, acquiring sponsors, and introducing programming. The Transcona Square acts as a central meeting place for locals and events and may not have been the success it is without Wendy. Although Wendy will tell everyone it was really a collective effort from many people.
2016 Tom Nesby - President of Transcona Optimist Club
Tom has been a dedicated member of the community for over 30 years, and his volunteer efforts have had a positive impact on many families throughout Transcona. Over the years, Tom's involvement in community organizations has included serving on the Board at the East End Community Club, acting as President of the Transcona Optimist Club, coordinating the annual Santa Sleigh drive around Transcona on the weekend before Christmas, organizing community slow-pitch leagues, and volunteering for Transcona BIZ events.
Tom was instrumental in overseeing the 12.5 million dollar expansion to the East End Community Club with the addition of their new arena. He has also served as a convener to many programs that the club offers such as soccer and baseball and special events. Tom and his wife Judy Nesby worked hard for the Transcona Optimist Club to provide the tasty hotdogs, kubidogs and refreshments that we now expect during many of our summer events in the Transcona Centennial Square, with all profits from their BBQ's donated to support local charities in Transcona.
Tom volunteered his time to build a skating rink at Transcona Centennial Square, much to the delight of children and families in the area. As the only outdoor rink in downtown Transcona, Tom's work resulted in a free, family-friendly activity during the winter months. The tradition of setting up a skating rink in the square has continued throughout the years, with ongoing support and ice maintenance provided by Tom Nesby and the team at East End Community Club.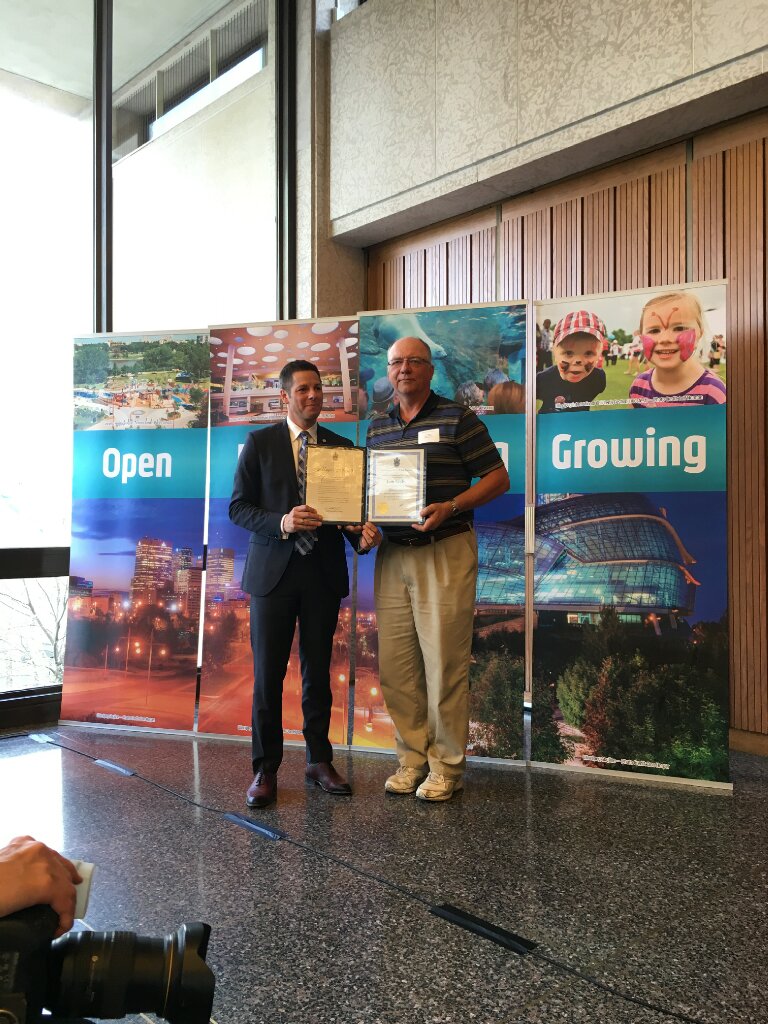 2015 Reg Wyatt - Founder of Wyatt Insurance and Downtown Transcona Merchants Association
In 1971, Reg Wyatt and his wife Donna founded Wyatt Nu Trend Insurance, now known as Wyatt Dowling Insurance. As a local business member, Reg was a co-founder of the Downtown Transcona Merchants Association (DTMA) , a forerunner to today's Transcona BIZ.
In 1971, Reg and his wife Donna, founded Wyatt Nu Trend Insurance (now Wyatt Dowling Insurance). Through hard work and dedication, and the assistance of son Curtis and daughter in law Debbie, Reg and Donna grew the family business to include 5 branches in Winnipeg. Curtis and Debbie now lead this successful operation, Wyatt Dowling Insurance, that has eleven locations including three in the Transcona area.
Over the years, Reg was very busy and co-founded the Premier Insurance Group, as well as the Downtown Transcona Merchants Association (fore runner of the Transcona BIZ).
Public service was an important part of Reg's life. Reg was city councilor for Transcona and served from 1983 to 1986. Reg is very proud of his son Russ who followed his footsteps into public service and served as the Transcona City Councillor from 2002 till 2018.
Service groups have been a large part of Reg's life. He is a Mason, a Shriner, and a Rotarian. Reg also saw the value and appreciated the countless fundraising committees, community and condo boards that he was involved with.
Reg has been a leader in our community and has contributed greatly.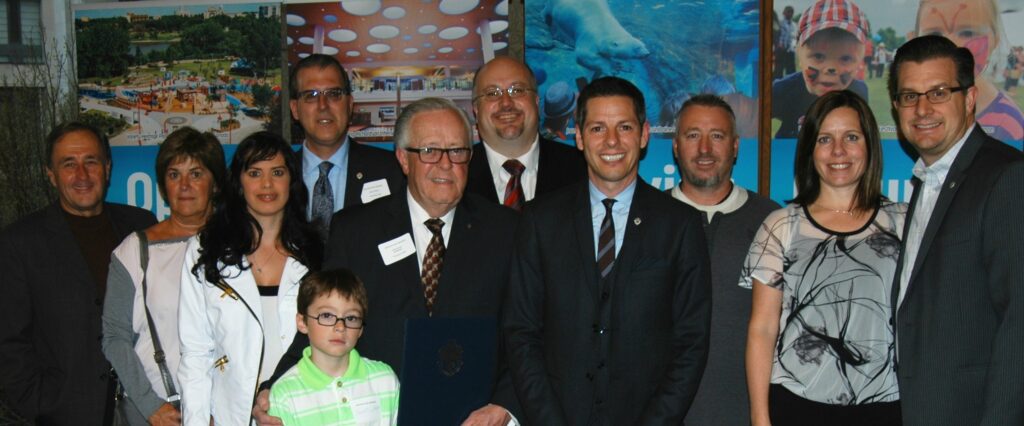 2014 North American Lumber - Transcona BIZ Member Business
North American Lumber has served the Transcona community by providing professional service, products, and expert advice to customers. Encouraging community engagement, North American Lumber hosted a bird house contest with materials supplied by the business. In 2017 the company was purchased by The LumberZone, which continues the tradition of fostering relationships between customers, suppliers and employees so that all may prosper with our families and finances.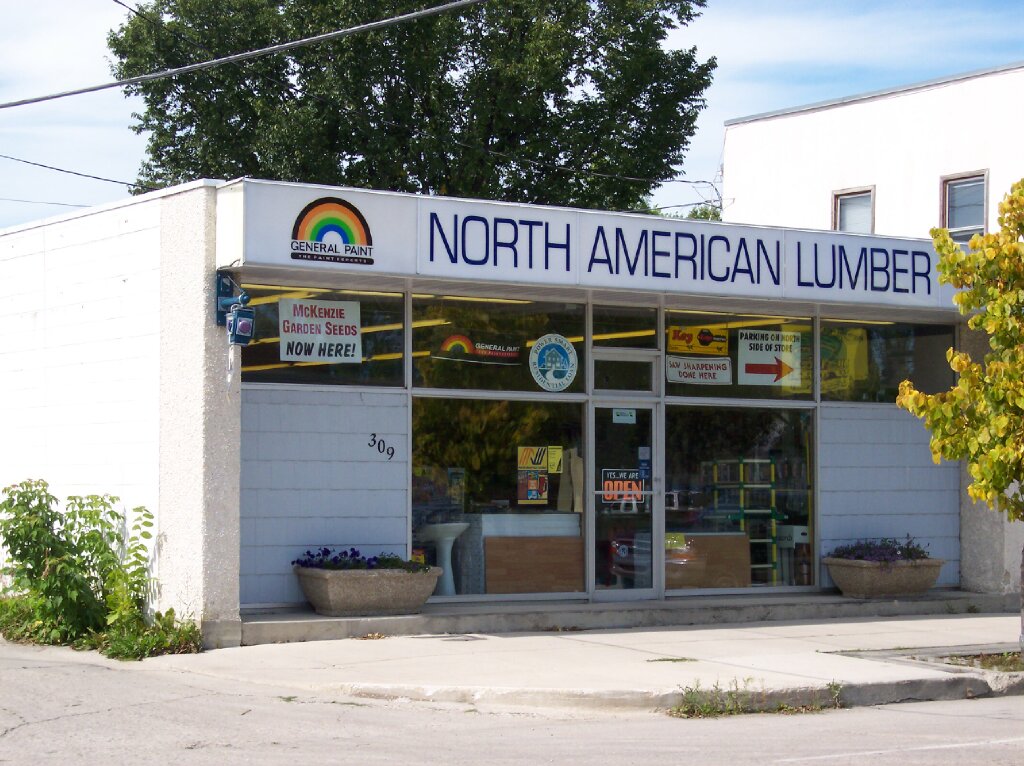 2013 Megan Strain - Arts Teacher, Murdoch MacKay Collegiate
Megan Strain's creative, innovative and effective teaching practices have brought out the best in students of the River East Transcona School Division since 1987. Her dedication to her students and to art made her a natural choice for consultation when an art curriculum was being developed for the Advanced Placement Program in Manitoba high schools.
Under Ms. Strain's leadership and with her persistence, nearly $100,000 has been invested in landscaping and caring for the school grounds and those of neighbouring Collège Pierre Elliott-Trudeau. Her belief that good neighbours take care of each other and the environment regularly extends to the Transcona area and beyond, as she encourages her students to take part in projects for local charities and Transcona festivals. Murdoch groups such as Charitable Ideas, Youth In Philanthropy and Student Action have all been either created or promoted by Ms. Strain, who encourages members to think not just logically but creatively. Regular enrichment opportunities at the ballet, concert hall, opera and theatre are made available to Ms. Strain's students, and also opened to the student body in general if space allows. Students who face financial challenges are not denied, and she often calls upon the community to help provide support, leading by example on many an occasion.
Ms. Strain's passion for Arts education and commitment to her students have inspired many of them to pursue post-secondary education in a variety of fine arts and creative communication programs.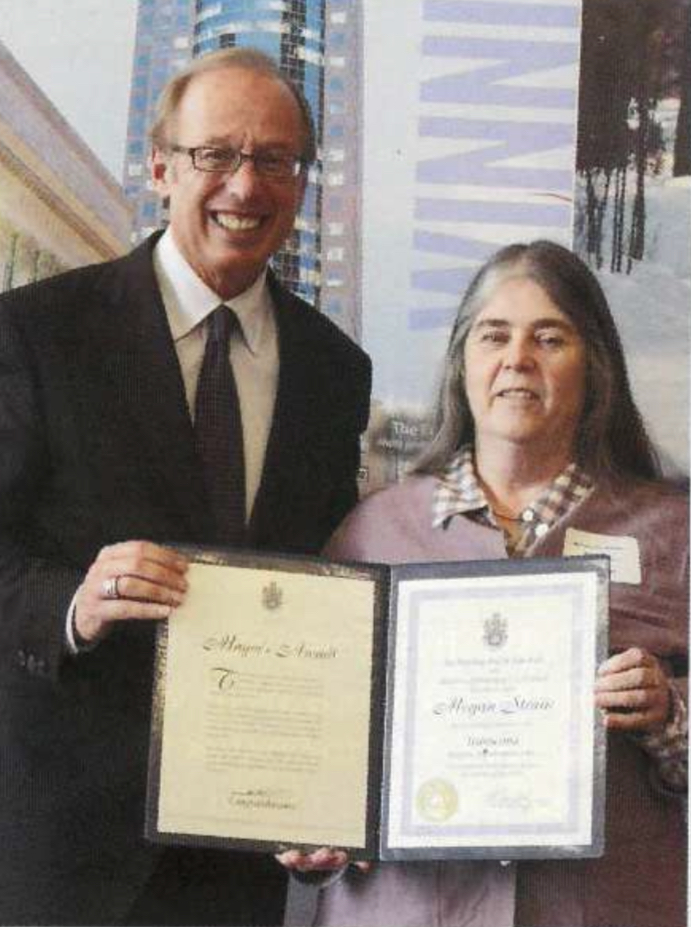 2012 D & S Auto - Transcona BIZ Member Business
Since 1976, D & S Auto have served the community of Transcona and surrounding areas including province wide customers with knowledge, honesty, great customer service and quality workmanship. Dave opened the business with his brother Steve, hence the name D & S Auto. In 1999 Steve retired from the business and brother Jack joined Dave as a partner. Today the two owners along with employee Kevin offer a combined 95 years of automotive knowledge and experience.
Trust, honesty and integrity; these are often words used by customers of D & S Auto. One customer says "I tell Dave to do whatever is needed, I trust him that much." Another customer notes "It is wonderful to have an automotive service that you can count on to do the right thing." This is truly how the customers at D & S feel; they know the job will be done well and that the staff and owners are there to take care of your automotive needs at a fair price with pride and integrity.
For many years the gentlemen at D & S have been the quiet heroes to the Transcona BIZ Green Team.  They are forever filling flat tires, charging batteries, changing bearings and so much more for the Green Team students who water the flowers throughout the zone during the summer months.  D & S Auto has been a great support to many years of Green Team students over the years and students quickly learn that Dave and his staff are their "Go to Guys" for advice and assistance.  For the countless hours of repair and support offered over the years, the Transcona BIZ is proud to nominate Dave Hrynchuk and the staff of D & S Auto for the 2012 Mayor's Award.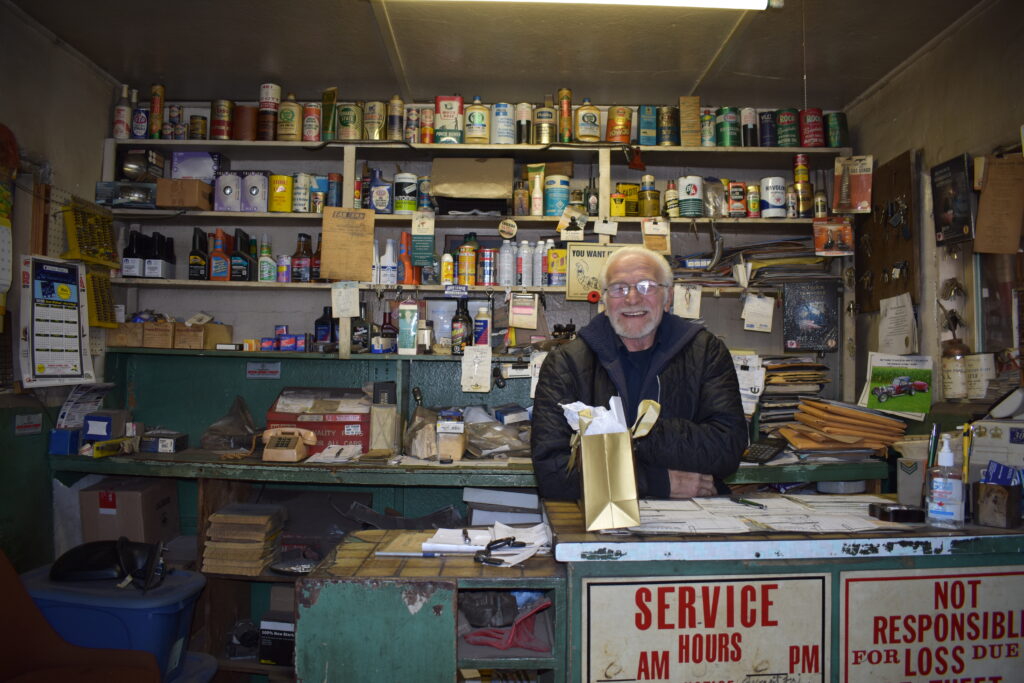 2011 Transcona Garden Club
Over the years Transcona Garden Club has become a high profile, well respected group within the Transcona community. In the summer months, club members have gone above and beyond to volunteer their time and teaching efforts when it comes to planting and maintaining the planters in downtown Transcona. The invaluable knowledge and experience of the club is shared with BIZ Green Team staff, who in turn take the torch and continue to maintain the flowers throughout the season. Garden Club members also assist in the yearly Spring Clean Up, focusing on cleaning Transcona Parks and natural spaces. The club's commitment "to promote interest in horticulture and instill a love of gardening within the community, especially among youth, and maintain an awareness of Transcona as a "Park City", and to act as a source of information to Club members and the general public through meetings, seminars, courses and workshops" is still upheld today.
2010 Don Toyne
The Transcona BIZ was proud to nominate businessman Don Toyne for the 2010 Mayor's BIZ Award. Don's commitment and dedication to the community of Transcona was very evident. In 1976 at the age of 26 years old, Don owned the first Pic-a-Pop franchise in Winnipeg and opened his first store at 701 Regent Ave. West. In 1977, Don was asked to join the Pic-a-Pop management team and soon after was promoted to General Manager where he ran the company for ten years.

Also in 1977, Don joined with fellow Transcona business associates and formed the Transcona Rotary Club. Don became a Chartered Member of Rotary International and worked tirelessly to raise funds for local and international causes.

In 1980, Don came across an article about actor Paul Newman and his buddy, author, A.E. Hotchner. The article detailed how Newman and Hotcher had formed the "Newman's Own" Company. This was a company that had developed some salad dressing recipes and they sold them to all the supermarkets in the U.S. with all profits going to a non-profit foundation. Don immediately recognized the great cause and called to see if the products could be brought to Canada with the profits going to a Canadian foundation. Don received the Canadian rights, developed bilingual labels, and shortly after, started importing the products.

In 1992, Don received a call from long-time Transcona resident and School Trustee, Mary Andree. Mary informed Don that the Transcona Springfield school division needed to raise money for scholarships and bursaries and that it was her dream to form a foundation in which to raise the needed funds. In 1993, along with fellow business leaders, Don incorporated the "Transcona Springfield Education Foundation." Since 1994, over two million dollars has been invested through the Foundation to enrich student learning experiences.
In 2005 there was an opportunity to build a Subway Restaurant in Downtown Transcona. This was a serious and tough decision for Don and his wife Nancy. An investment of $250,000.00 was required and Don recognized the community of Transcona had changed over the past 30 years. Don and Nancy decided to build the Subway store and become more involved in the long-term redevelopment and revitalization of Downtown Transcona.

In 2006 Don's fellow Subway owners voted him as one of their local "Board Members" of the Subway Franchise Owners Trust Fund. The trust fund has donated enormous amounts of money to many local worthy causes, including The Special Olympics, which received $300,000.00 from the Subway Owners Trust Fund in 2009.

Don was a long-time Transcona BIZ member and supported annual community events such as the Hi Neighbour Festival. Don's dedication, commitment, and loyalty to the Transcona community was very evident to all.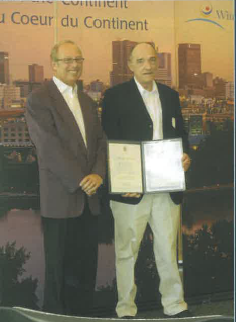 2009 Debbie Neufeld
Debbie has always been a strong supporter of the Transcona community, and a long-term resident. In 2003, Debbie's parents started a Pet Store in Downtown Transcona. Debbie assisted in the store whenever she could. With her entrepreneurial spirit and her love of animals, Debbie decided she would like to own the store, so Debbie and her husband purchased Pet Peripherals. Through Debbie's marketing expertise and her exceptional customer service, the store grew in both space and customers.
Debbie also demonstrated a deep commitment to her community. She volunteered on the Westview School Community Review Board, was a member of the Parent Council, former Chairperson of the Hi Neighbour Festival Committee, and former Vice-Chair of the Transcona BIZ Board of Directors.
Debbie's knowledge of the business community and her forward-thinking has greatly contributed to the BIZ Board, including her work on the Revitalization Process of the Downtown Transcona area.
2008 Diane Truderung - Former Transcona BIZ Executive Director
Diane Truderung is the Director of Fund Development and Communications for L'Arche Winnipeg. She was a member of the L'Arche Strategy Committee that first explored the possibility of starting a social enterprise, and in 2012 the L'Arche Tova Café became a reality. Diane previously worked with the Canadian Diabetes Association (now Diabetes Canada) and as Executive Director of the Transcona Biz Zone. Her volunteer work includes serving as past President of the Transcona Museum, as a member of the City of Winnipeg Library Advisory Committee (NE Area), and as a volunteer with the Transcona Hi Neighbour Festival. As well, Diane was co-chair of the TMAC Group (Teens Making A Connection) which received the Mayor's Volunteer Award under the Education category in 2009. In 2012 she was commissioned to write Transcona's Story: 100 Years of Progress. She received the Association of Manitoba Archives Manitoba Day Award in 2014.
2007 Murray Rougeau
Murray Rougeau is a long-time resident of Transcona. His father worked for CN rail and Murray and his family still reside in the Transcona area. In 1970, Murray joined the City of Winnipeg Fire Department as a devoted fire fighter, working his way up to District Chief and Acting Platoon Chief over the years. Murray was a founding member of the Transcona Optimist Club and spent seven years with the Club in various positions on the Executive Board. Murray was past president of the Transcona Oxford Heights Baseball Association, a board member of the Transcona Parks Renewal Committee, and volunteered for the annual Christmas Cheer Board.
With the assistance of the City of Winnipeg, Councillor Russ Wyatt, and Transcona BIZ, Murray ran the graffiti removal service throughout Transcona for 15 years. Murray's passion for cleaning up unsightly graffiti was evident through his hard work, which ensured the community he grew up in remained an enjoyable place to live and a welcoming place to visit.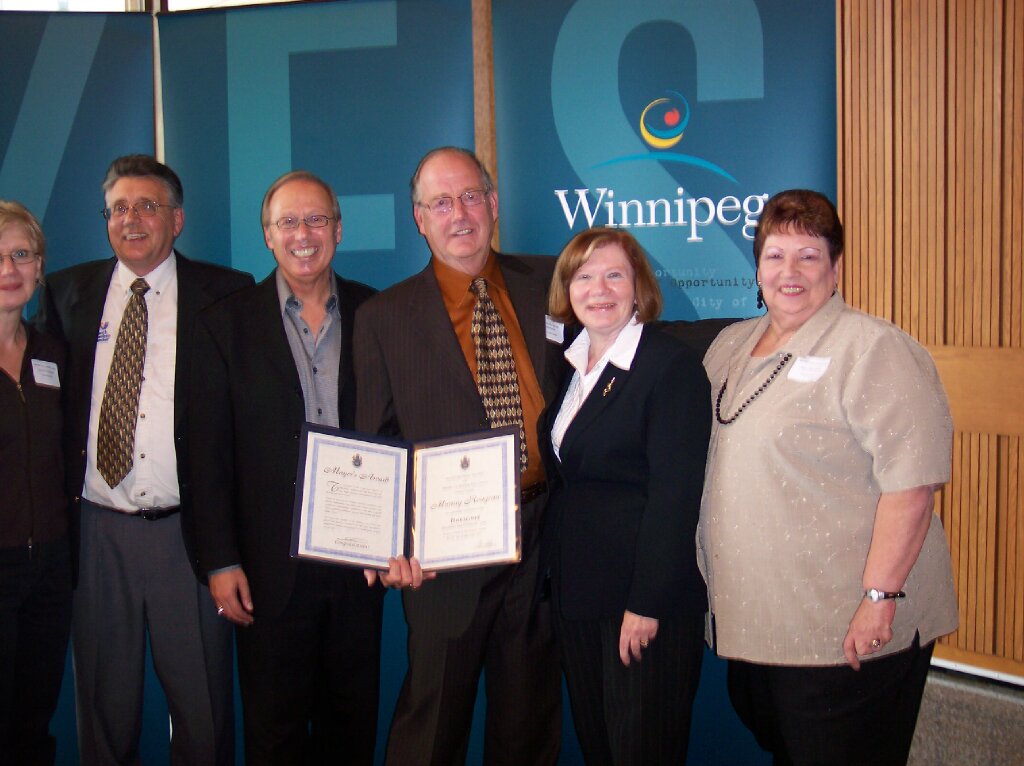 2006 Jean Delorme
Jean was a strong supporter of the Transcona community that she grew up in. Her love of fashion led to her selling Beauty Counselors Cosmetics, a venture that Jean was able to grow into a team of 400 beauty counselors. In 1997, in partnership with her daughter, Jean opened 'Another Look Bridal Fashions' in Transcona, giving brides-to-be the opportunity to purchase their wedding apparel at affordable prices. As a mentor, Jean gave local fashion technology textiles students the opportunity to experience working in a fashion business while assisting in the bridal shop. Jean also supplied the beautiful fashions free-of-charge for many concerts and fashion shows in Transcona.
In 2005 Jean won the award for the best business light display in Transcona as part of the Winnipeg Lights Contest, sponsored by Take Pride Winnipeg. Jean was also involved in the Hi Neighbour Festival for over 20 years, organizing the Miss Transcona Pageant and in 2012, to help celebrate Transcona's 100th Anniversary, had a reunion of the past Miss Transcona Pageant Winners. Jean was responsible for getting the Hi Neighbour Sam mascot back to Transcona and was awarded a gold Hi Neighbour Sam Pendant.
Jean was a strong supporter of the Transcona BIZ, serving on the BIZ Board as Treasurer. Jean also served on the Transcona Historical Museum Board and was a member of the Transcona Legion. Her strong volunteering efforts throughout the Transcona community made her a great choice for the 2006 Mayor's BIZ Award.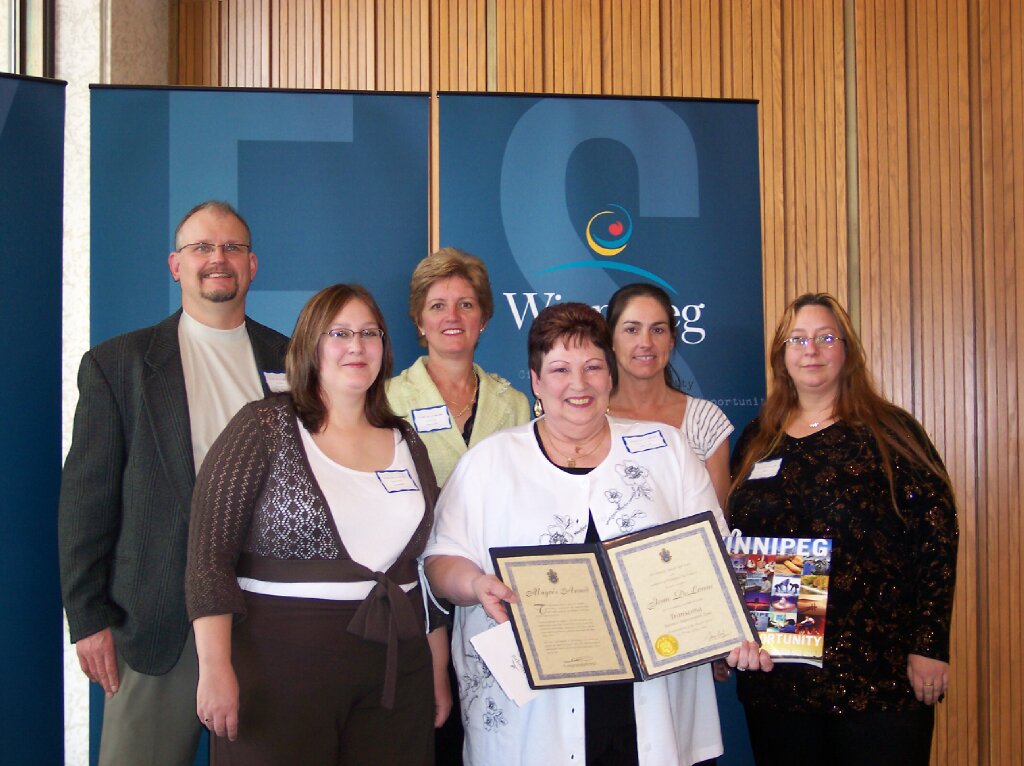 2005 Sheilagh Ball
Sheilagh served on the Winnipeg Community Revitalization Program from 1985-1990 and assisted with the formation of the Transcona BIZ's predecessor; the Downtown Transcona Merchant's Association. Sheilagh is a life-long resident of Transcona. In 1985, she purchased her father's business, Ball Insurance. This company was established in 1953 and is in Downtown Transcona. Sheilagh served as secretary on the Transcona BIZ Board, served on the BIZ website committee, volunteered at the Transcona Historical Museum, and volunteered at the local French Immersion School.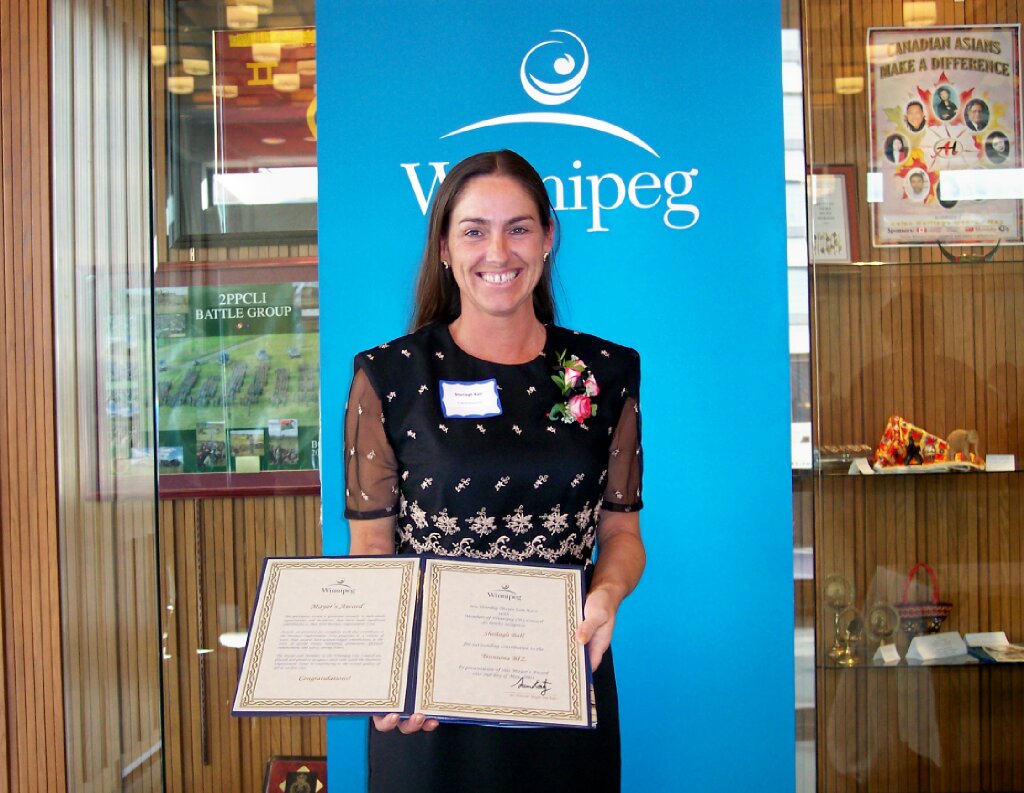 2003 N/A No event held
2002 Cathy Slaa-DeVos
2001 Pat Corrigan
2000 Bobbie Griffiths
1999 Catherine Slaa-deVos
1998 Dr Bruce Rosner
Over 40 years ago, Dr. Bruce Rosner established Transcona Optical after graduating from the Ontario College of Optometry. He served as president of the former Downtown Transcona Merchants Association, and in 2005 with the formation of the Transcona BIZ, Dr. Rosner was elected to the management board of directors as president.
Generations of local Transcona residents have had their eyes examined by Dr. Rosner. Due to his desire to implement a revitalization of the business district, as well as the entire Transcona community, Bruce became well-known amongst local business owners, residents, and tenants. In the 1990's these connections helped to form the Community Revitalization Committee, made up of local residents who wanted to improve downtown Transcona. Revival of the area was achieved through the committee's insistence that the local businesses take ownership of an improvement project of nearly $400,000.
Under Dr. Rosner's leadership, Transcona BIZ grew from a little-consulted to an envied-and-respected organization. Over his years of service, Dr. Rosner devoted thousands of hours to strategic planning, lobbying, and promoting the interests of Transcona businesses to everyone he met.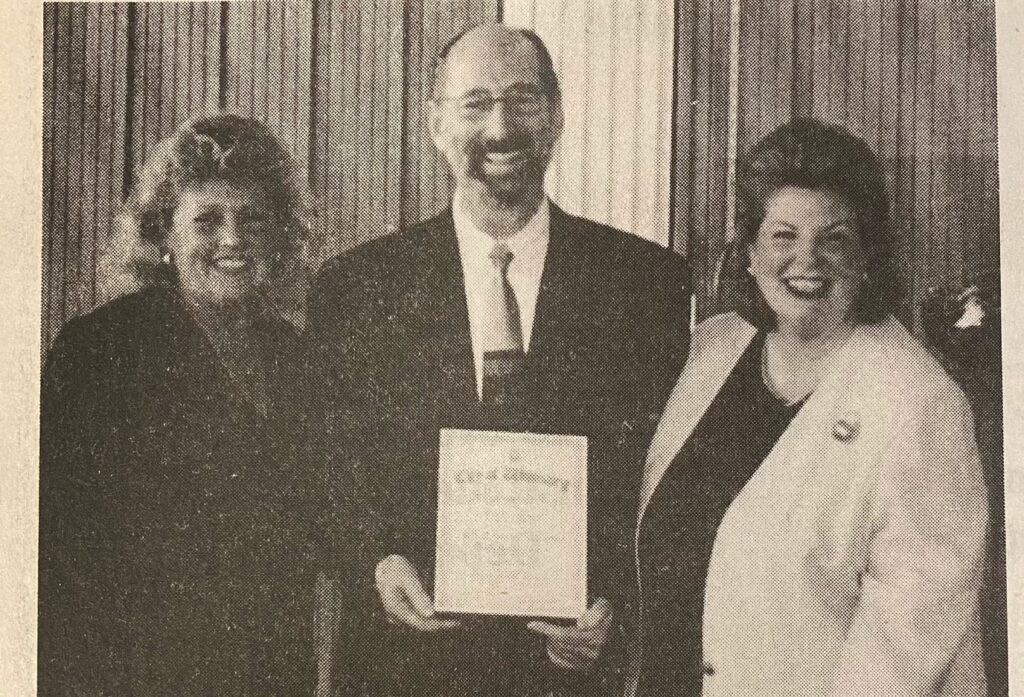 1997 Andrea Reid