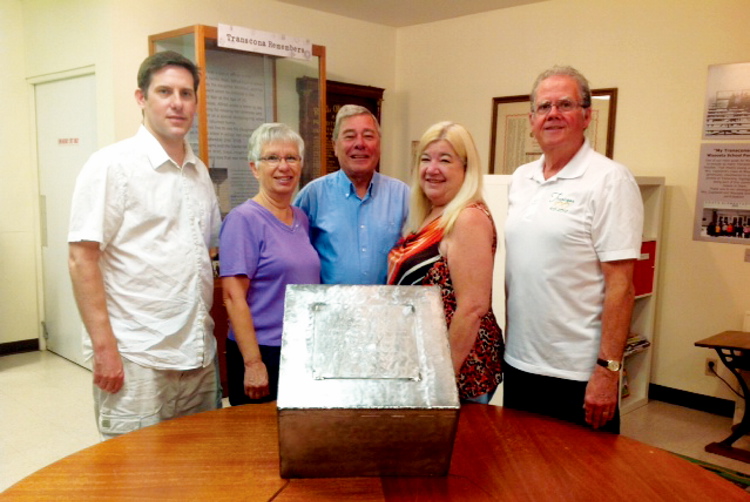 Time left until capsule is opened on Tuesday, July 25th, 2062 at 12pm:
14185
Days
08
Hours
07
Minutes
45
Seconds
The Transcona Centennial Time Capsule was sealed into the Archambault Pavilion at the Transcona Centennial Square on Friday, April 12, 2013.
The Time Capsule was one event as part of the larger Transcona Centennial Celebration Committee's Transcona's 100th Anniversary Celebration during 2012. The Transcona Centennial Steering Committee consisted of Barb Culbertson, Peter Martin, and Murray Rougeau. The Time Capsule Committee Co-Chairs consisted of Brian Hodgert, Donna Wyatt, and Ken Butchart.
Their mission is to provide a "snapshot" of our Centennial Year, 2012, for future generations of Transcona residents. The Committee asked the citizens of Transcona, including each community sector in Transcona, to collectively determine items that best represent its unique contribution to Transcona in the Centennial Year. Special consideration was taken based on the size of the items suggested and its ability to remain intact over the 50 years.
The 18X18X12 inch stainless steel capsule, 3/16 inches thick, was created by the Red Seal Welding Program at Murdoch MacKay Collegiate overseen by Gerard Horrne and Tom Morley. Students from the school constructed, inscribe and were responsible for sealing the capsule before it went into the wall.
The Transcona Historical Museum displayed all items going into the Time Capsule leading up to the sealing ceremony. They also have kept a detailed list, including photos of all items that were placed in the Time Capsule.
The Time Capsule is set to be opened in 2062.