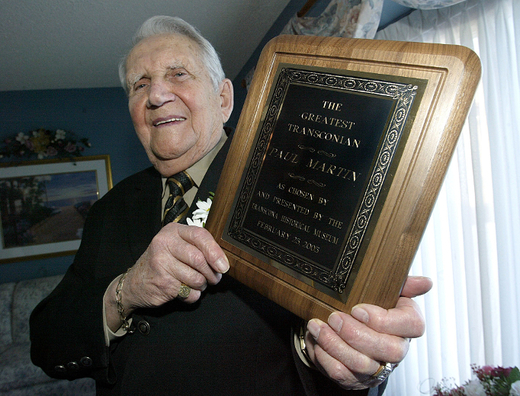 In 2005, the Transcona Historical Museum hosted the "Greatest Transconian" Contest. During the nomination period, the public put forth 112 names! Each nomination included information detailing the contributions, importance, and outstanding accomplishments of each individual. It quickly became clear that many of the nominees were people who had demonstrated greatness on many levels – in the worlds of sports, science, business, media, politics and the military. As leaders, advocates, and activists, they had touched the lives of others in their fight for a better world.
The Selection Committee was a balanced composition of volunteers, who represented local business, education, public safety, and heritage sectors. The Committee Members included men and women, young adults, mid-career and retirees who were either long-time or relatively recent members of the Transcona community.
The huge success of the contest caused the Selection Committee to narrow the list down to ten nominees who made a significant contribution to Transcona and then allowed the public to vote. Those top 10 nominees included Rod Black, Bill Blaikie, Joe Blostein, Bill Gibson, Dr. Michael Grace, Mr. Murdoch MacKay, Paul Martin, Russ Paulley, Joseph Teres, and Bernie Wolfe. There was an opportunity for the public to read about each nominee through the museum's website and cast their votes at the museum, the public library, the Royal Canadian Legion, or the BIZ office.
On February 25, 2005, the Greatest Transconian was announced as former Transcona mayor, councillor, veteran, sports enthusiast and spiritual leader, Mr. Paul Martin.
Mr. Martin was a tireless champion of the East Winnipeg neighbourhood where he was born and raised, and where he returned after serving in World War II. In his efforts to educate young people about the war, he spent many years speaking to them on Remembrance Day. For his help in liberating Europe, France honoured Mr. Martin with the "Legion of Honour", the country's highest foreign medal.
Over the years, Mr. Martin took on the challenge of helping his neighbours build a vibrant Transcona. He served as a school trustee, councillor and mayor of Transcona. He also founded the Transcona Historical Museum, was a chaplain at the Transcona Royal Canadian Legion, Branch 7, and served as a Deacon at St. Joseph the Worker Parish, Catholic Church. He also helped develop the popular Crocus Hill toboggan slide using soil removed during the Transcona Street paving program.
Originally, the plaque was placed on the ground in front of the Transcona Historical Museum but was removed when construction took place in front of the museum.  The plaque is located at the Archambault Pavilion at the Transcona Centennial Square.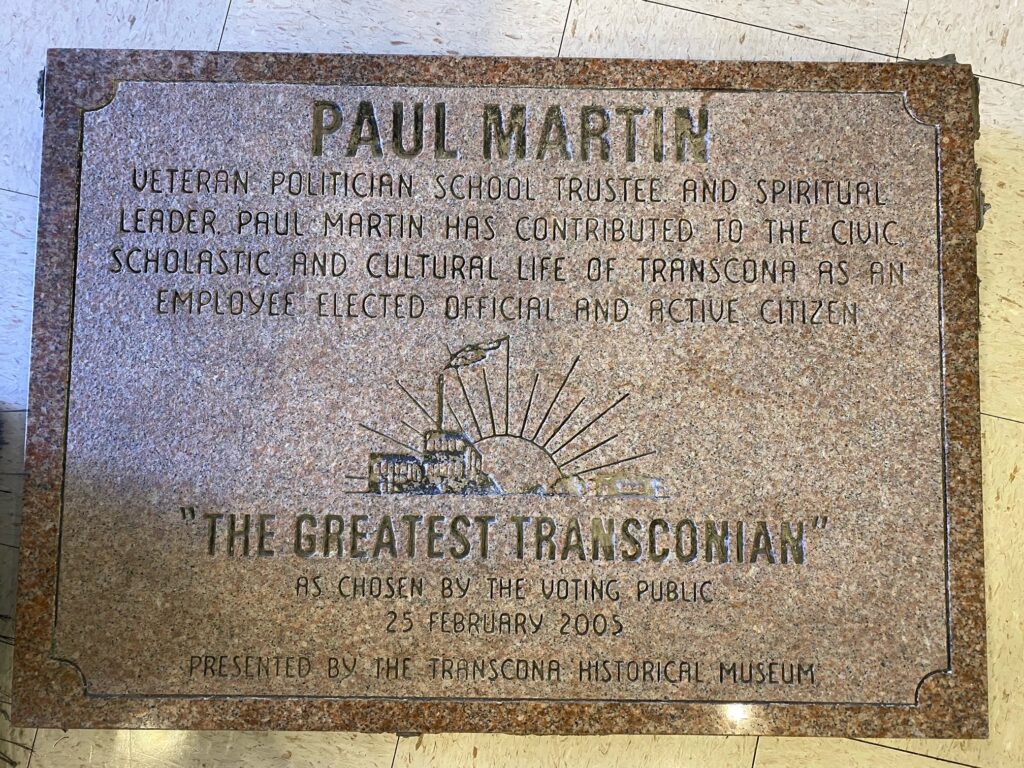 Mr. Martin dedicated his life to ensuring that we all benefitted from a strong community. His legacy continues to be an inspiration to all Transconians. Mr. Martin died on July 4, 2016 at age 96. He will be remembered.